Tags
apple, apple grape & endive salad, Around My French Table, chickory, Dorie Greenspan, endive, endive salad, grapes, grilled cheese, mushroom soup, Paris Mushroom Soup, Top Chef, Top Chef Masters
Since Auntie Errin has been staying with she, she has spent some time parsing through our copy of Dorie Greenspan's "Around My French Table" and looking at the recipes she wants to make, nominating recipes on our website each month and getting just as excited as us when it comes time to make the recipes each week. As a part of that, when we are meal planning for the rest of the week, we have been consulting my list of make-up recipes and slowly starting to chip away some more at the list. Right now, there are less than 50!! Score!
So to make another Dorie evening of it, we decided to make the Paris Mushroom Soup to go with the Endives, Apples and Grapes salad for this week. We also made grilled cheese sandwiches to go with it all. Turns out it was a fantastic meal!
Everyone was dubious about the mushroom salad at the bottom of each steaming, glistening, charcoal bowl of mushroom soup that sit before us, but after one spoonful, all you could hear was the sound of spoons hitting the bottom of the bowl.
And Top Chef Masters.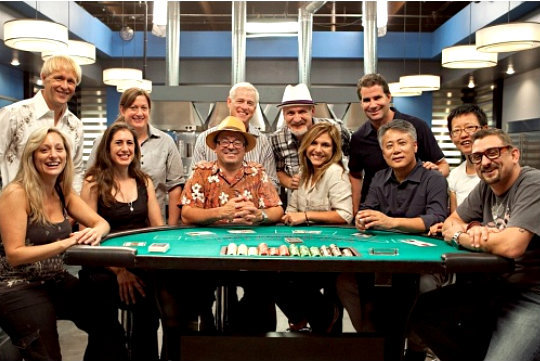 LOL, what can I say? We are keeping up with the current season of Top Chef and wowza! We are all taken aback at who made the finals and we are waiting to watch the first of the final rounds tonight… !
While the endives, apples and grapes all cooked together melodiously in the skillet – I was skeptical that I would enjoy the endive and I was right. It was too bitter for our taste, even as a whole bite with the apple and grape. Too bad, I really wanted to like it since, endive or chickory has been something that I have always wanted to buy but put off since I wasn't sure how to cook with it or what to put with it so I was really jazzed to pick up a package for the French Fridays assignment and then it turns out I'm not too crazy about it at all. Ugh. At least I gave it a try!
I do want to use endive leaves (smaller ones though), to serve chicken salad on as a spoon of sorts, in the future… but it is such an expensive veg to use just for a spoon! The apples and grapes were really delicious slow roasted in the skillet and none of them went to waste. My little fruit lover ate her portion, leaving the endive behind, and we all settled into the sofa to finish the episode of Top Chef Masters satisfied with yet another Dorie hit in our bellies!
To see how the other Doristas fared with this week's recipe, click here. To see how everyone enjoyed the mushroom soup, click here. To join our group, simply pick up a copy of Dorie Greenspan's "Around My French Table" and start cooking along with our recipe schedule! You won't be sorry, it's too delicious not to try!